Return to Hancock Classical Guitars website
The Genius of Miguel Rodriguez.
14th January 2007
Kim Hancock
Miguel Rodriguez Jnr was born on 1st of November 1921 in Cordoba Spain; he was one of twin sons of the well respected luthier Miguel Rodriguez Beneyto (Miguel Rodriguez Snr) and Josefa Serrano Sanchez. He learned guitar making from his father and took over the workshop, when his father died in 1975. The workshop was located at calle Alfaros, 15, Cordoba, Spain. Miguel Snr was taught guitar construction by Rafael Casana. Casana was taught by Jose Ramirez the 1st, founder of the Madrid based Ramirez dynasty. Miguel Jnr was married to Rafaela Alamo. He died on 16th of October 1998. Miguel Jnr had two sons, but I can find no reference to either being involved in guitar making. Miguel's twin brother Rafael Rodriguez was also an extremely gifted luthier until his untimely and tragic death in 1965.
Miguel Rodriguez is considered by a growing number of fine classical guitar connoisseurs as being one of the foremost makers of concert classical guitars.
Guitar Salon International (GSI), the world's leading classical guitar dealers, "have done dozens of blind tests with the best makers including Fleta, Hauser, Bouchet and Santos, and we are always amazed to find that Rodriguez is as beautiful as the best of them in terms of tone, but bigger in sound and scope." (GSI Summer Catalogue 2002, p.3.)
The Romero family have concertised and recorded using Rodriguez guitars for many years. "The famous guitarist Pepe Romero considers Miguel Rodriguez guitars to be supreme concertising instruments, partly because the strong fundamental content of tone carries deep into an auditorium." (Urlic 1997, p.126.).
These guitars are large, powerful instruments with an extremely quick response, which is due in part to their ideal string tension. "String tensions, the different "feel" (as exemplified the return of the strings, after being deflected, to their state of inertia)" and "a finely structured guitar achieves a point of abeyance–resonance that easily responds to the slightest of deflection of the strings, producing in turn a string tension with an ideal pliancy, and that when this state of integration occurs, there is coupled "unison" between the string in tension and the guitar (structure) which is highly desirable." (Romanillos 1987, p.108.).
Miguel Rodriguez Junior's craftsmanship and artistry was of the highest standard, most likely due to his father's influence, who was considered a perfectionist. This high level of workmanship can be seen in Miguel Jnr's instruments throughout. They feature an intricate time-consuming headstock, beautiful Spanish-style neck and heel, the body is large and curvaceous and beautifully proportioned. The marquetry and inlay skills are displayed in his rosettes and mitred purflings, back strip etc. His fine sense of taste is displayed in his choice and combination of materials. This is obvious in his famous Church Door concert classical guitars. It is unclear how much effort by other Rodriguez family members was input into the Church Door instruments in terms of conception, or implementation. Picture 1. shows a 1997 Church Door in its case taken in 1999 at GSI. Picture 2. shows this same instrument so that the neck and beautiful two-tone Brazilian rosewood back and sides can be seen.
I have had the opportunity to study several Rodriguez classical guitars in the following combinations of materials:
Date: 1976 Honduran rosewood and Western Red Cedar
Date: 1997 Brazilian rosewood and European Spruce (Church Door)
Date: 1986 European Maple and European Spruce
Date: 1976 Brazilian rosewood and Western Red Cedar
All the guitars above were of similar shape, size, bracing design and mass.
The dimensions below are from the 1997 Church Door, the last guitar he made. Tim Miklaucic, CEO of Guitar Salon International, generously made this guitar available to Dane, Sean and myself on 6th July, 1999).
The dimensions of this particular instrument are shown below:
Upper bout: 281mm
Lower bout: 368mm
Waist: 240mm
Body length: 495mm
Depth at the lower bout: 107mm
Depth at heel: 103.5mm
Sound-hole diameter: 85mm
Nut width: 52.5mm
Neck thickness at 1st fret: 23mm
Neck thickness at 9th fret: 26mm
Overall width of strings at saddle: 60mm
Scale Length: 663mm
Headstock length: 172mm
Headstock width: 71mm
Weight: not available (Other Church Doors weigh in at 1550 grams approx.)
The measurements from one guitar to another may vary slightly due to the traditional Spanish method of construction; the neck widths on some guitars are up to 54mm, and some of his guitars were built with a shorter, more standard 650mm scale.
The top bracing layout is of asymmetrical design. Due to the number of miters, scarfs and intricate joinery, this top is time consuming to reproduce. The top bracing of one of my German spruce top Rodriguez reproduction can be seen in Picture 3. A cedar version is shown in Picture 4.
As seen in the picture, there are two reinforcing braces either side of the sound hole. These braces travel from the lower transverse brace and converge ending at the heel block of the slipper foot, into which they are scarfed entirely across the top surface. These braces are scarf jointed under the upper transverse brace as well. The sloping asymmetrical, diagonal brace is scarfed into the lower transverse brace at the point of intersection.
There are five fan braces of varying size, a bridge plate is positioned between the two outer fan braces and the three internal fan braces are notched over the bridge plate.
There are two closing bars at the end of the fan braces, which are separate and do not join in the centre.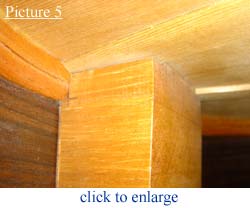 The ends of the two transverse braces are scalloped and notched into the linings, as are the ends of the diagonal brace.
The linings are of bent solid Spanish cedar, the upper linings have been reinforced with an extra 1mm thick veneer. The top and bottom linings are morticed into the end-block and the heel-block. Picture 5. shows the slipper foot mortised to accept the top sound-hole reinforcing bars.
There are a total of four side braces, two positioned on each side, above and below the waist, these side braces are scribed and fitted to the linings. Picture 6. shows the side braces, kerfing and back.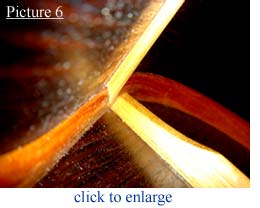 All the interior work is of a high quality and the rigid design gives the guitar an extremely strong structure, for the weight of its framework.
The 1997 instrument I studied has a floating strut that I have not seen on the other guitars I have examined, the strut spans the width of the guitar approximately 40mm below and parallel to the lower transverse brace. This strut is supported on knee blocks which are glued to the interior of the sides and the brace touches the soundboard only near the central fan brace. This connection is made with a 'V' joint cut out of the floating strut to cradle the central fan brace. The dimensions of this strut was 10mm thick by 17mm deep at the point where it houses the central fan brace, the remainder of the strut either side of this junction was scalloped 8mm so that there was a space of 8mm between the brace and the under side of the sound board. These two "stems" tapered in depth, reducing to a thickness of approximately 3.5mm at the ends.
At the time of drawing and studying this guitar I had no tool at my disposal with which to measure the thickness of the soundboard, however, it did feel similar to his other guitars when flexed with thumb pressure. Some Luthiers believe the obvious reason for this floating strut is to counteract bridge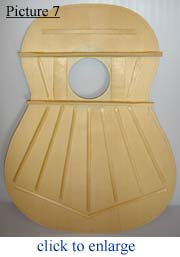 belly, (the dipping of the sound board between the bridge and the sound hole due to the downward force caused from the bridge applying bending from the pulling action of the strings.). However, I am not totally convinced that this was it's purpose, as the bracing layout makes these guitars quite firm in this area and I have seen no evidence of any of Rodriguez guitars showing signs of this problem. This concept is intriguing and I am going to build a guitar in the near future using various pressures on this strut to study what the results are.
These guitars differ a great deal from the symmetrical braced guitars from the earlier Spanish School, starting with the great Andalusia luthier Antonio de Torres Jurado. Picture 7. show a 'Torres Style' braced top by Dane Hancock.
The Rodriguez bracing layout does resemble some of the great post 60s Ramirez guitars, however, there are many subtle and intricate differences in the Rodriguez system of construction, it is the sum of this unique system that the Rodriguez family developed, that gives these guitars their unique high quality sound. This system took the Rodriguez family almost a century to develop and it is unfortunate that no more guitars will evolve from this family's genius and commitment.
It is interesting that the sound character is considered very 'Andalusian' although the Rodriguez workshop was in Cordoba, an area not normally particularly noted for its guitar making tradition.
Miguel Jnr had great success using a wide variety of timbers in his guitars. Most of his guitars featured soundboards from either European Spruce or Western Red Cedar. He was one of the first makers to use Western Red Cedar (Ramirez was the first to use this material for soundboards.). He was also one of the first makers to successfully use Californian Redwood as a soundboard material.
Like the maestro Antonio de Torres, Rodriguez Jnr used a wide variety of timbers for the backs and sides of his instruments, including, European flamed Maple, Honduran Mahogany, Indian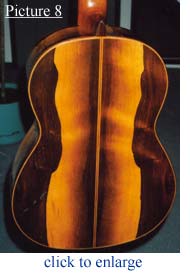 Rosewood, Honduran Rosewood, (which is said to have been his favourite back and sides material), Spanish Cypress for his Flamencos, and of course Brazilian Rosewood. He acquired a quantity of stunning Brazilian rosewood, which he used to build his most famous and sought after guitars. These guitars became collectively known as his 'Church Door' instruments. The timber in these guitars is unique, the colour changes drastically across the board, from a dark chocolate brown typical Brazilian rosewood colour to a light beige/ blonde colour (sapwood), then turns dark brown again. He used his artistic talents combining these timbers in such a way to create possibly the most strikingly recognisable concert guitars ever made. Miguel Rodriguez Jnr built approximately 20 of these guitars. The stunning back of the 1997 Church Door can be seen in Picture 8.
There are many theories as to why these guitars were referred to as Church Door guitars.
The first, and most popular, is that the magnificent Brazilian rosewood used in these guitars was milled from a set of doors that were salvaged from an old church, and Rodriguez was fortunate enough to come by this material.
The second theory is that the name refers to the divine tone of these guitars.
Our initial thought was that the Church Door name may have come about from the stunning appearance of the backs of some of these guitars. Many have a distinct strip of light sapwood either side of the backstrip, which resembles two high doors with the shape of the upper bout represents an arch-like form surrounding the perceived doors.
"They were allegedly made from the door of a church… but he probably just had a piece of wood that had a certain physical appearance that was very dramatic and very beautiful. The difference between a 'Church Door' and another Rodriguez is simply that the back and sides are made from certain slabs of Brazilian rosewood which contained a good deal of sapwood, which is the light coloured wood that gives these dramatic contrasting features." (Miklaucic 2002, p.71.)
If you are in search of the ultimate concert classical guitar, with a rich Andalusia sound, and the highest standard of craftsmanship throughout and have a budget of around US$20,000 to US$40,000 these guitars represent very good value. This is apparent when these instruments are compared to other guitars constructed by other well-respected luthiers. They are not only works of genius, that can be played and enjoyed, but these instruments are also sound investments, and appreciating works of art.
No one will ever build a guitar exactly as the Rodriguez's family did, there many estimations and techniques that would have been handed down and considered between this family of luthiers, there is also the intuitive aspect, most luthiers do rely on their intuition in many areas of construction and this is what gives their guitars a signature sound, feel and appearance.
The Rodriguez family spent most of their lives building fine guitars and flamencos in the Spanish style, and succeeded in developing a guitar that is becoming recognised as being the ultimate concert guitar.
I have been building and seriously studying guitars for almost 20 years and have entirely focused my attention on the Rodriguez design since 1999, when I first heard that 1997 Rodriguez Church Door.
I have worked on many guitars over the last seven years developing a Rodriguez Reproduction. These guitars have an unquestionable Rodriguez influenced sound, feel, quality and appearance. As I have said before, Rodriguez developed a system that gives these guitars their extraordinary qualities,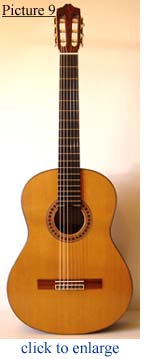 and I have been very fortunate to have had the opportunity to closely inspect and measure original Rodriguez guitars. Over the period of analysing his guitars and building guitars, experimenting to establish if a particular method was employed for a particular reason, my personal respect for this family grew. I feel Rodriguez was more interested in developing his guitars than merely making money. His art was the focus of his attentions, as it is with most artists.
Recently, once I felt that my work was to a high enough standard, I aimed at building exact reproductions of Rodriguez guitars. From the outside and more importantly the inside. This was mainly to study the master and examine how his technique altered an instrument. These days I am more concerned with making 'Rodriguez Style' guitars, with slight internal variations and my own Rodriguez inspired aesthetics. All those involved with guitars owe a great debt to Rodriguez for his contribution to instrument building and it disappoints me when I see that cheap, low quality copies of his instruments are being mass produced now around the world. One of my Rodriguez reproductions can be seen in Picture 9.
References used in this article
Bacon T, Cooper C, Van Eik J, Fowles P, Jeffrey B, Johnston R, Miklaucic T, Morrish J,
Rebellius H, Richardson Dr. B, Sparks Dr. P & Wade G, Zern B 2002, The Classical
Guitar-A Complete History, Backbeat Books/ Outline Press Ltd, London.
Romanillos J.L 1987, Antonio de Torres Guitar Maker-His Life and Work, Bold Strummer Ltd,
Connecticut.
Unknown Author 2002, Guitar Salon International Summer Quarterly Catalogue 2002, 3100
Donald Douglas Loop North Santa Monica, California 90405.
Urlik, S 1997, A Collection of Fine Spanish Guitars From Torres to the Present, Sunny Knoll
Publishing Company, California.
Return to Hancock Classical Guitars website