Return to Hancock Classical Guitars website
Learning from Master José Romanillos.
2nd January 2009
Sean Hancock, BDesSt
I had a few goals in mind when I set off from Australia on the long trip to Europe. I wanted to learn as much as possible about the subtle secrets of Spanish classical guitar making from the master José Romanillos. It was also important to me to represent Australian guitar makers internationally. I was the only Australian to have ever attended the Romanillos course and also the youngest participant yet. So I was already anticipating a few light-hearted jokes headed in my direction, all part of the experience.
As I arrived at the train station in the town of Siguenza, Spain, I was captivated by the town's historic Visigoth Castle, so much so that I was nearly late getting off of the train. Liam Romanillos, son of José, met me to give me a ride to the monastery where the workshop was held.
The venue couldn't have been better suited to the creative nature of a guitar-building course. The Hermanos Maristas Monastery is situated just outside the town, within it's century's old walls. The grounds were beautiful. The monastery had its own woods, with most of the rest of the grounds planted with mature sunflowers, which flowered during the course.
The moment I walked through the door into the workshop it was clear to me that the Romanillos family had gone to great lengths to create an area where their students could do their best work. The workspace itself was partly below ground level, I was very thankful for this when the days got hot in the notorious Spanish summer. Another saving grace was the workshop's fridge, stacked with cold cerveza.
The workshop was laid out with 21 hand made benches including the soleras, which are essentially guitar making platforms. There were only a few twenty-first century machines, an old small drill press, a good scroll saw and a side bending press. There were a range of homemade templates and jigs which José and Liam had constructed over the years and a set of workshop hand tools, including some beautiful old hand planes.
The goal of the Romanillos Guitar Workshop was to finish a fine instrument in the two weeks we were given. I had been instructed to bring a prepared neck and some other finished parts to speed the process and I had talked with my brother Dane about creating a rosette for this instrument. With permission from José, Dane, still in Australia, had begun to build one based on José's famous Romanillos rosette with its motif reminiscent of the arches of the Mezquita Mosque in Cordoba. He finally had to send it to me FedEx but Dane really came through, constructing one of the most beautiful works of marquetry I have seen. This rosette got the students talking and being the youngest participant of the course was no longer an issue.
Almost all of the work had to be carried out with hand tools. While I knew this was going to be hard work I was also excited to be building a guitar this way. I hadn't built a guitar completely by hand, since I started building fifteen years ago. I began planing and scraping away at my top, back and sides to get them to the exact thickness, supervised by the Romanillos father and son.
José Romanillos is known for his attention to detail when it comes to timber selection and 'tuning' of the parts of his guitars. José and his son Liam gave a lecture nearly every day of the course with the first couple being devoted to these important topics. José outlined precisely how a spruce top should be split and cut to produce the best sounding guitar possible. He now has a private stash of spruce, which he cut 30 years ago. He uses this consistent material as it limits the inherent variables in timber.
After listening to this lecture I was a bit concerned that the spruce top I had brought might not be up to scratch. I was nervous when José came to look at the materials I had brought, but he seemed reasonably happy with the piece of spruce. "Well split, it has some hazel (bear claw figure), a little fresh but it has potential". I couldn't help but suspect that he was not just commenting on the timber but also on me as a young luthier.
Constructing the guitar was a reasonably straightforward process, it was the finer points of thinning the back and especially the top, which were very important and time consuming. This is what makes a great guitar, even five percent of a millimetre can make a big difference. José and Liam were very helpful here visiting my workbench frequently, flexing and tapping the plates and instructing me where to take more thickness off, until perfect.
The days were long, we normally started with breakfast at 9am and worked through to 10pm or later, stopping for lunch and dinner. The food really left a lasting impression with me with 3 course meals for every lunch and dinner. Mealtime was also a great opportunity to talk guitars with other enthusiasts, from all countries and walks of life.
At night José and Liam joined the students for beers as they took a break from their work. During one of these breaks José told us how he first began making guitars with a modest payment from Maestro Julian Bream, which he used to buy materials to build Bream's guitar. Unfortunately the first batch of top material he bought was mostly wrecked by an infamous fungus that turns the light blonde European spruce an awful patchy, blue colour. The rosewood table he cut up for the back and sides had some hairline cracks, which later opened up. Despite this, the guitar had a great sound quality and Maestro Bream was very happy with it.
By the 9th day my guitar was in one piece and ready for the bindings. I actually caused a bit of controversy by bringing an electric router to the course so I could route the binding rebate. Traditionally this rebate is cut by hand using a guided blade cutter and both José and Liam still use this method. José had commented several times by this stage about how much he hates routers, especially the sound which is like an amplified dentist drill. Despite this I decided to use the tool as time was running out. The small router sped up the process and made a finer cut. As it turned out José warmed to the router and was impressed with its efficiency and later asked if I could use it to cut the binding channel on two of the other students' guitars, which I obliged.
The course coincided with the Siguenza Fiesta, the annual festival of the town. That night a bunch of us decided to hit the town. The big event was concerts in the town's Plaza de Toros (bullfighting ring). The atmosphere was exciting and exotic and I was impressed by the music with the highlight, a Basque Ska band called Ska Republic. Being a festival there were also some wild people around, my favourite were a group of Spanish punks who took turns fighting each other in the middle of the crowd. It was disconcerting at first until we worked out that it was all just an act.
The next morning the town had its own miniature version of the running of the bulls, which I attended. I decided to keep behind the barriers, being my first attendance and having a guitar to finish. Afterwards, the bulls were herded into the arena and anyone from the crowd could jump in with them. The bulls weren't big but they weren't small either. Mainly the participants were drunk from the night before, which made for a good show. That afternoon José invited all of the students to visit his home and personal workshop and to view his collection of instruments, including one of his beautiful original Antonio de Torres guitars.
I finally got my guitar strung up, on the final day of the course. I was pleasantly surprised at the sound, very much like José's spruce and cypress guitar I had heard earlier. Obviously the tone was different, the back and sides being dark straight grained Indian Rosewood that José uses as a standard. José had organised a surprise for that evening, Spanish guitar Virtuoso Carlos Trepat had graciously agreed to perform a concert at the monastery. Mr. Trepat used one of José's latest guitars to perform and the music was amazing. The instrument sounded wonderful and the playing was first class. Afterwards Mr. Trepat kindly agreed to play all of the finished instruments including my guitar. He seemed very pleased with the sound, playing several pieces. After he had finished I expected some criticism, as he had made with all the other finished guitars, but instead the only word he said was "Bonita", even with my very limited Spanish, I knew he had said "Beautiful".
The next day I packed, relayed my goodbyes and headed off. We had been told a few days earlier that it would be the last workshop at the monastery, as the land had been sold to developers. This was sad news but I was glad I had the opportunity to attend the course when I did. The Romanillos family had put an incredible effort into ensuring all the participants not only gleaned some in depth knowledge but also had a great time. I know the saying 'once in a lifetime' is one of those clichés that are thrown around a lot but I think for me this experience truly qualified. This opportunity was thanks, in part, to a grant I was awarded by Arts Queensland. Also, I would like to thank my brother Dane for his rosette and for taking over my business responsibilities for me while I was abroad.
Click Here to view the guitar I built at the workshop
Return to Hancock Classical Guitars website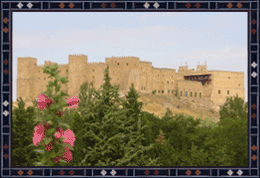 The historic Visigoth Castle, Siguenza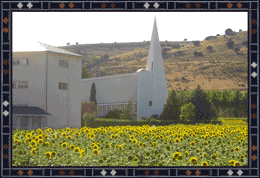 The Hermanos Maristas Monastery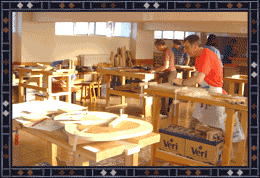 The monastery workshop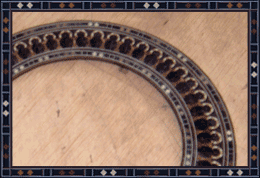 Romanillos style rosette by Dane Hancock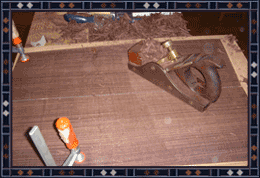 Planing the back to thickness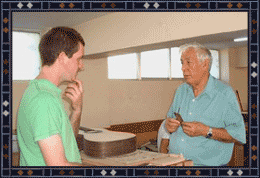 Receiving guidance from the Maestro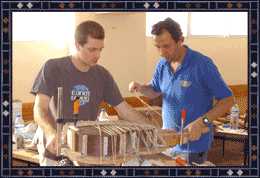 Liam Romanillos helps me attach my back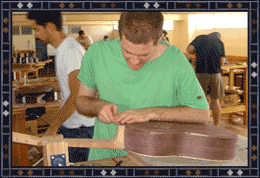 Cutting the binding rebate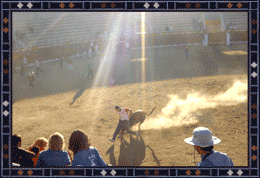 A morning at the Siguenza Plaza de Toros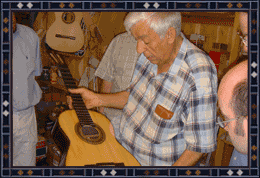 José shows us one of his masterpieces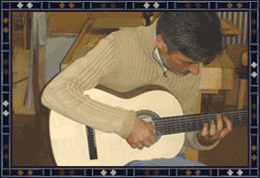 Virtuoso Carlos Trepat tests my guitar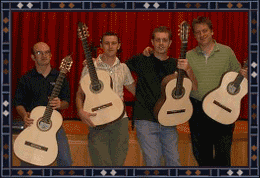 Happy luthiers with our finished instruments